We are suppliers of model railway baseboard kits with frame, ply tops, folding or equalising legs, suitable for many types of layouts.
Available in self assemble kit form from our own workshop.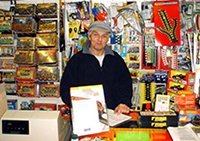 8 Front Road Woodchurch Kent TN26 3QE



Tele: 01233 860008/861217
Fax: 01233 861217
Email: harrymaynard@talktalk.net
Opening times: TUESDAY, THURSDAY, FRIDAY.
SATURDAY 9.30am - 4pm, LUNCH 1200 - 2pm.
OPEN WEDNESDAY 9.30pm - 12.00 midday.
10% Discounts for Hornby collectors club members & Model Railway Club members.