Additional help building your HM Baseboard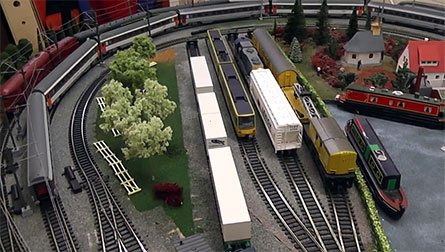 Our baseboard kit is particularly suited to those who want a single-piece baseboard for a Hornby model railway layout.
Aimed at starters using a typical Hornby trainset, the standard HM baseboard kit provides a 1.8M x 1.2M board which folds flat for storage and the leg units consist of 2 frames of 50 x 25mm timbers. It is intended to accommodate your own railway layout on one or more interlocking boards.
Other modular baseboards sizes are available from HM at 8 Front Road Woodchurch, Ashford, Kent TN26 3QE by contacting Harry Maynard.
The kit provides for a lightweight 1.8M by 1.2M top with folding legs and comes complete with all fittings including adjustable feet and hinges.